M-Net Face of Africa has been mired in controversy since its inception in 1998. Now, on the eve of its seventh leg, Ziphezinhle Msimango wonders whether there is a need for the competition at all.
It's 1998, and 16-year-old Oluchi Onweagba is selling bread on the streets of Lagos to make ends meet. She has no idea that soon she will land a contract with Elite Model Management in New York, widely regarded as the world's biggest modelling agency. That, in just five years, she is to grace the covers of magazines like Italian Vogue and Marie Claire, and sashay down the international catwalk in haute couture by Christian Dior and John Galliano. And that, Cinderella-like, she'd marry legendary Italian designer, Luca Orlandi, one day. But, in the same year that she finds herself plying the streets, a friend convinces her to audition for the first-ever M-Net Face of Africa modelling competition in Zimbabwe. Onweagba's world changes forever.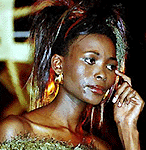 In 2000, 16-year-old Nombulelo Mazibuko, a schoolgirl from Khayelitsha, wins Face of Africa, lands a 150000 contract with the Elite agency, and goes off into New York's sunset. But, barely two years later, she's sent back to South Africa — the agency thinks she's too fat. Mazibuko returns home and leaves the modelling world behind for an office job.
Botswana's Kaone Kario, 20, who won the competition in 2005, says, "I flew in a plane for the first time because of Face of Africa. I think it does so much for this continent. But what you do with the exposure you get as the winner is up to you."
It's been two years since Kario won the competition.
She's now based in Cape Town and almost all her modelling jobs are in South Africa.
"Personally, I've tried the international modelling scene and I don't prefer it," says Kario, who claims she battled racism at European castings. "It's so tough when you arrive at a casting and people are shocked that you're actually black."
As part of Face of Africa 2008, 12 girls aged between 18 and 22 are in Dar es Salaam for the competition's model bootcamp. It's early November, and they are learning sundry modelling 'how-tos' — from working the ramp to the complexities of international income tax, which a model working overseas must master sooner rather than later.
Yet, as this effer- vescent gaggle of girls rehearse for their very first catwalk experi- ence at Swahili Fashion Week 2008 in Dar es Salaam, it seems most aren't considering the unthinkable: This competition may not make their dreams come true.
"My friends encouraged me to enter and I listened to them," says Tanzania's Helen Ambrose, 19, in Swahili. She speaks through a translator — she doesn't understand any English. Ambrose, who stopped her education at the end of primary school to find a job in Tanzania's flourishing tourism industry, adds: "Winning would mean an education, and the opportunity for me to uplift other girls from my community."
Three days later, her hopes are sunk when she's voted out of the competition and the gold dust disappears in a poof. Another girl, also faced with the disappointment of being eliminated, steals money from the bags of her fellow contestants. She says she wanted to use it to pay for her brother's school fees. The organisers may not be proud of this incident but, still, perhaps it provides an instructive insight into how the competition seems a magic bullet for only a few — rags to rags, if you will.
When the first Face of Africa competition was launched in 1998, it captivated girls across Africa. In it, for the first time, they saw the chance to show the world their wares; and a direct passage to international runways was at their fingertips. At this time, the only black high-fashion models were either born in the West, like Naomi Campbell and Tyra Banks. Or, they were even rarer, like Alek Wek, who moved from her native Sudan to London in 1991, and was subsequently discovered at a fleamarket.
Regardless of the brouhaha around some winners vanishing into an abyss — in spite of the brave new world one might associate with the competition winner — Onweagba, who is at the bootcamp, counters: "Each Face of Africa winner has been unique in her own way, and each has had her own level of success.
read the entire article on the Sunday Times website.